About NSO Services Products Patents Cases Contact us
---
Home/About NSO
About NSO
▊
Company information
NewSun Oversea Co, Ltd. was established in 2007, introducing Japanese gold medal technology and developing local NS BIO environmental engineering methods / products.
Our NS BIO technology,with multiple patents and tests, not only has excellent treatment efficiency for environmental pollution and odor factors, but also does not cause secondary pollution to the environment.
▊
Corporate mission & vision
Dedicated to green life, resource recycling, and nonstop innovation
We dedicated to green life, resource recycling, and nonstop innovation.
Visionof 3R:
1 Reduce pollution by developing technology from natural energy.
2 Re-create value by using waste.
3 Reuse limited resources for a much more effective life style.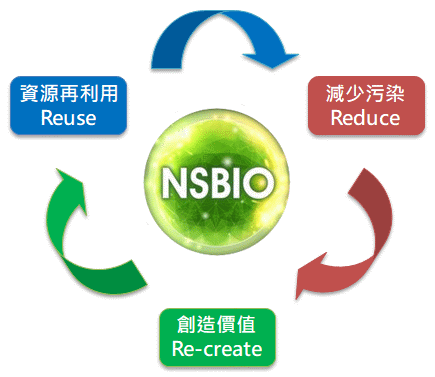 ▊
Core technology
NSBIO is a group of special microorganisms separated from natural soil. We extract microorganisms from natural soil, and cultured by our advanced biotechnology, special environment and materials. We create NS BIO with the strongest adaptability to different natural circumstances, different from other products as lab microorganisms with weak capability.
▊
Service values

Original Japanese technology + Innovated and developed in Taiwan

→ Estimate customer's problems/goals

→ Design construction methods/budget

→ Reaching customer's goals
▊
History
-2019

Cooperated with Light of Strawberry Farm in planting media improvement.

"New Sun Agriwater No. 2"got the certificate as a registration-free plant protection product. (No. 00256)
-2018

Recycled & reused rice straw compost in Bengbu City, Anhui Province.

"Ren Wei No.1"got fertilizer registration certificate: No.0973001 (item 5-14).

NSO co. Ltd., was invited to attend the Science and Technology Exchange Conference hosted by the Science and Technology Bureau of Hohhot City, Inner Mongolia Autonomous Region, and published the technology and methods.
-2017

Soil improvement of the Panax quinquefolius in Weihai City, Shandong Province.

The river regulation in Ma'anshan City, Anhui Province.
-2016

The Tainan factory was completed with factory registration no. 67-001447 to expand production capacity and R&D energy.

Applying our patent technology to soil revival, land improvement, compost making, and soil revival for medicinal plants, etc. Several important achievements have been completed in Binhai New Area of Jiangsu Province and Jingzhou City of Hubei Province.
-2014~2015

Participated in the Shanghai IE Expo for several years and entering China market.

Visited East China and South China in mainland China to discover market demands.

According to local conditions, we began to develop technologies for river pollution control, resource recycling, soil revival and improvement.

Developing technology to pears and pumpkins in Taiwan

.
-2013

According to Japanese sewage treatment and deodorization technology, apply biotechnology to municipal engineering and disposal of sewage.

R&D center established in Tainan.

Cooperated with university research groups of CCU, NIU, etc. Started upgrading technology and engineering methods.
-2012

Introducing Japan's the newest biotechnology to environmental protection and health.
-2007

Professional environmental protection materials and engineering planning company New Sun Oversea co, Ltd. was established in Taipei city. Developed photoelectric and energy-saving technologies, etc., obtained multiple patents, which is a supplier of many domestic lighting and electrical companies.
▊
Related company
Taiwan Gojyo Co., Ltd.
ADD:

5F-5 No. 108 Chang-An East Road, Sec.2, Taipei
New Sun Tech Co., Ltd.
ADD:8

F-6 No. 108 Chang-An East Road, Sec.2, Taipei

      ▊ 環保 GREEN
      ▊ 創新 SPECIALTY
      ▊ 專業 INNOVATION